Wisconsin Bicycle Trails
Bike Trails of Discovery and Adventure
The Story of a Bicycle Trip Across the State of Wisconsin
By James Hegyi
Chapter 3
A New Day in Reedsburg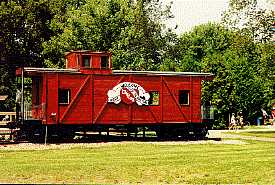 At the small town of Wilton, a caboose greets visitors, reminding them of the railroad and of days gone by. A young boy sells frozen push-pops from a cooler near the path.
"How's business?" I ask.
"It was better yesterday." He opens the cooler and I peer in at the goods. "I sold twenty in one hour yesterday." he says.
"Well, it was hotter yesterday." I reach into the cooler and select a blue one, handing him my coins. I take a tour of the caboose, fill my water bottles, and hit the road again.
The trail is beautiful here. I pass a pony at a stable that offers horseback riding. The Tunnel Trail Campground seems a perfect place for launching a ride, especially if children are along. This day is filled with tunnels, railroad history and the beautiful landscape that encloses the trail. Before long I'm in Elroy, looking for a place to eat some lunch. Unfortunately, it's a holiday, so all restaurants are closed. I settle for some cookies at an old, small grocery store and head east on the "400" trail.
I'm worn out again, and although I'm glad to be riding, I'm thinking more of finding the Lighthouse Rock campground in Reedsburg, and a cool shower. A few hours later, I pull into Reedsburg, and begin the hunt for a restaurant that will accept a worn out sweaty cyclist. Reedsburg too is shut down for the holiday, and fast food is my company at the table. County highway "V" leads me out of town, and it isn't long before I pull into the campground.
What a difference one day can make! Tomorrow it's back to work for most people, so the campground is almost deserted. An hour later, my tiny tent is set up in my own private section of campground. I buy some beer at the office, get clean in the shower, and spend an hour doing my laundry. I passed the post office in Reedsburg during my search for a place to eat, and now I decide to lighten my load. There's the lightweight aluminum pot that I just don't need. I don't need my Levi's either, or my belt, battery charger, nickels and dimes, or maps from the first part of the trip. I make up a small pile and stuff it into a nylon bag. Tomorrow I'll send it home. In later months, talking to other cyclists, I'll find that many people use this method of correcting their mistakes.
It's quiet now, and I think of tomorrow. I'll be riding the roads, heading south to Governor Dodge State Park. Clouds move in , slowly covering the stars. I climb into my tent and stretch out on top of my sleeping bag. Over tired, I have trouble falling asleep. In the distance, thunder booms and echoes. Warning sirens go off, far away. The storm never reaches Reedsburg, however, and eventually I drift off to sleep.
---
Like a great curious eye, the sun rises above the horizon and looks down on the world of men that wake to it's silent call. Early morning, at the moment of consciousness, is the time when all men can truly know the quality of their chosen path. At that moment, each man knows only how he feels about the day before him. Some wake from uneasy dreams to the harsh buzz of the alarm clock. "How bad will the traffic be today? Can I sleep another ten minutes?" Somewhere a man awakes full of dread. He must fly far from his home, to a meeting he doesn't want to attend, to say things that he doesn't believe. Another fears the endless monotony of his boring job. He does not need to think, but he must remain alert all day to avoid injury. Somewhere a teacher wakes up and cannot remember the year, the names, the lessons; all are run together.
Now the rising sun touches a small tent in Reedsburg, Wisconsin. Inside is a traveler. His day is unknown, for he travels to places that he has never seen. Perhaps the traffic will be bad, perhaps not; he does not care. His only meetings today are with other travelers, or with the spirits of people that walked this land long ago. Maybe his day will have moments of monotony, yet each hill top, each curve in the trail may reveal excitement and satisfaction. The loneliness of the night, the exhaustion of the day before, all are replaced with a driving anticipation of the road ahead. To travel to places unseen, to go anywhere, without clocks, appointments, responsibilities, that is the light that lifts him from his bed, that drives him outside to exalt in the new day.
---
Reedsburg is fully awake as I ride slowly into town. I stand by the Post Office door, waiting patiently for the official eight o'clock opening. I purchase a small box, and the lady behind the counter lends me the tape dispenser. A few minutes later, my bike is seven pounds lighter.
There's a small restaurant attached to a small motel on the main highway that runs through town. I stop in and order eggs, bacon, hash brown potatoes and toast, as well as some delicious coffee. I sit back and relax, completely at ease. Between the older waitress and the young cook, my order gets messed up, and the potatoes don't come. Since there are only four people in the restaurant, including the waitress and cook, it can't be because it's too busy. A feud is evidently in progress. I find that I'm entertained, rather than annoyed. The waitress nags the cook. Harsh words fly out of the kitchen. The cook leaves for a smoke. I sit back and chuckle.
Half an hour later I'm riding south out of town, following the suggested route marked on the Wisconsin Bicycle Map. I pass orchards and farms; slowly the activity of the town is replaced by the serenity of open fields and tall corn. From the southwest, dark clouds bear down, and near the top of a hill a wall of wind hits me. Stopping on the hill, I dig out my rain jacket. Again I'm spared, the rain never comes. I'm deep into farm country now, away from even a small town. My path twists and turns as I follow highway "D", going south. I suddenly come upon a beautiful garden. I really don't care much for flowers, but this garden is so rich and colorful that it stops me in my tracks. The patterns, the textures, the size of the garden - all show nature at it's best. I wonder about the person that brought the garden to life. Did she carefully plan this garden on paper, or does she carry it inside her, waiting only for spring to place it in the fertile ground? Few people will see this garden, far off in a hidden corner of Wisconsin; I'm glad that I'm one of the few.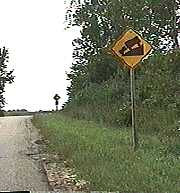 Later, I outrun a small dog, and then the land begins to rise. A few short hills, then a long steep hill brings me off my bike. Just walking up this one gets me sweated up and out of breath. But now I start going down. Down, down, still down goes the land. I begin to worry, for often what goes down must go back up. I'm on the brakes constantly now as the wooded landscape flies past the curving, twisting road. This must be the long hill that was mentioned by the couple I met on the Great River State Trail. A half remembered geology lecture comes to mind. I must be riding down the banks of the ancient Wisconsin river. The road changes into county "PF", and then I turn on to Hemlock road. The little town of Leland appears as I round a corner. I go east on county "C", there's a small state park that I want to visit.
Long ago, a section of rock was cut by ancient waters, forming an odd shape. To the animals that lived in this area, the emerging rock was not odd, it was just another place to pass through in the endless search for food. It was only man that would see this formation of rock and know that something different was here, something that stirred the imagination.
A short way down the road, I find the entrance to Natural Bridge State Park. There are no other visitors this day. After propping my bike against a sign post, I dig out some snacks and pump myself some water. A wide field of grass slowly rises into woods; this is the path I will take into the park. Soon I'm entering the woods on a well maintained stone trail. At a fork in the path, I go to the left, slowly climbing as I wind around a steep hill. I pass a wall of rock and find the formation that has drawn people here for perhaps twelve thousand years.
The bridge towers over me, massive and ancient. It's layered, worn surface attests to the persistent power of seeping water that slowly dissolved the rock and gave birth to the natural bridge so long ago. Just to the right, another formation peers from under the rock.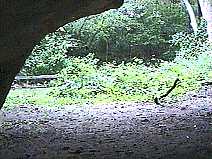 It's a cave, formed by the same waters that formed the bridge. Excavations into the floor of the cave have uncovered signs of human occupation since the retreat of the last great glacier twelve thousand years ago. What strange sights did those early human eyes behold when they first looked out at the rising sun? What were their thoughts as they first awoke? Were they filled with dread, or with anticipation and pride? For almost five hundred generations this place was visited by these early people.
Throughout the park there are small signs that explain the plants in the area that were used for food and medicine. A wooden staircase descends a high cliff, and I'm soon back at the park entrance. Just down the road, I approach Leland, a small cluster of simple houses dominated by a beautiful church that would make many larger towns proud. Just as I'm in front of the church, the bells start ringing, perhaps because an electric timer said it was noon, or perhaps for me, or perhaps for all of the people that have called this land their home.
I pass the afternoon riding through the farmland formed by the ancient meandering of the Wisconsin River. I stop in the town of Spring Green, and eat lunch at a restaurant and bar. After a quick trip into the town grocery store, I'm riding again toward the river. There's room for a bike on the bridge, but I hurry across to keep down my encounters with large trucks crossing with me. On the southern side of the bridge is Tower Hill State Park. I ended a harrowing canoe trip here long ago, when my son Mike and I were younger. This park features an old shot tower, the invention of James Watt long ago. By dropping lead at a great height to a pool of water below, musket shot was formed into perfect pellets.
Following county highway "T" then "Z", I turn off on a short cut that looks good on the map. When I get there, I find that the road is freshly paved with coarse gravel. I've gone downhill too far, however, to turn back, so I follow this road down into curving valley. This is a lonely place, for the valley is too narrow and the hills too steep for farming. Tucked away here and there are homes with no neighbors, places of solitude and beauty. As I climb a steep hill out of this valley, something walks noisily through the woods nearby. The deer is my only company; I've seen no people now for about an hour.
Soon my road climbs to a ridge and I'm on highway ZZ. A short hop to the west, then south puts me at the entrance to Governor Dodge State Park. Here I call my wife Judy, and catch up on the little bits of news from home. Normally I scoff at idle conversation, but now I find that I'm the one that wants to talk, although I really have little to say. I promise to call tomorrow, then mount up for the final (and most painful) ride of the day. The road to the campsite I've been assigned goes down and down. Then it goes up and up. I finally arrive on the top of a bluff and find my site. There is a place here where the park service sells wood, but only until labor day. Not a problem for someone with a car, but quite a problem for me. I must scavenge the dozens of empty campsites to find enough wood for a small cooking fire.
Later, after taking a hot shower, and pitching my tent, I sit by the fire and watch my cans of beef stew and beans get warm. I'm cooking hobo style, right in the can, and the dinner tastes great.