I awoke at 4:00 A.M. on May 16, 2001 and was soon on my way to Red Lake, Ontario. The trip from my farm at Baudette, Minnesota to Red Lake took five and a half hours.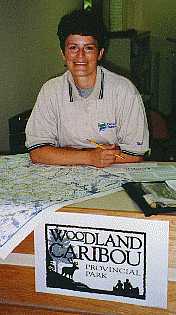 A stop at the MNR headquarters was the first order of business. I talked to Doug and Claire about my proposed route and secured my permit for 13 nights in the park. My route was a loop in the central portions of the park. The entry was through Onnie Lake and then West to Carroll, up the creeks to Simeon Lake, up the Bloodvein River to Murdock Lake, exiting Murdock Lake to the SW and following a chain of long narrow lakes to Royd Lake. The route then went East on Gammon Lake and followed creeks to Prarrie Lake. From Prarrie Lake it passed through Indian House, Crystal, Hatchet and Douglas Lakes where I then took Douglas Creek back to my starting point on Onnie Lake. The distance would be 150 miles with about 13 miles of that being on portage trails.

My first navigation problem came as I left Red Lake. My park map refers to the road as the Suffel Lake Road but the road is posted as the Flat Lake Road. Once I verified that the road had two names I was on my way again. It was a very rough ride on some portions of the thirty miles to the gravel quarry where I would park. I passed the sign for Cook Road and soon saw the yellow Woodland Caribou sign that marks the portages into the park. It shows a person portaging a canoe and has the park name on it. In preparing for the trip I had used the 50,000 scale topo maps to plot my course. I fed these UTM readings into my Garmin III Plus GPS unit. This was just a back-up to my park map and later would prove very useful as I paddled my way up the small streams. As I entered the portage it assured me that I was in the right spot.

When I packed for the trip I assumed that I would be wearing wool on most of the trip. Fortunately I had put some light cotton pants and a T-shirt in my duffel of clothes that I would change into from my traveling duds. The wool got sealed in a plastic bag and put in the pack for later. There was no thermometer handy but it felt to be about 80 degrees as I made the first portage at 2:00. Claire had warned me that the 365 meter portage was really a 600 meter, which was good or I may have thought that I had bitten off more than I could handle.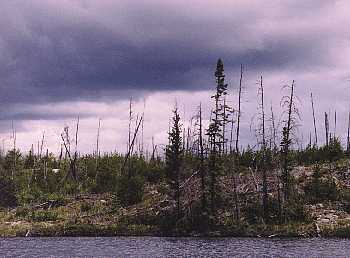 My plan was to get to the West end of Telescope Lake so that I would not get wind bound early in the trip. The wind was blowing when I headed out on Telescope Lake and soon it was a real struggle paddling into it. I was staying close to shore for safety reasons but the waves were still breaking over my bow occasionally. It was a workout but I kept working my way down the lake. The North shore had been burned recently and I could find no place to make camp anyway. There was a possibility of a thunderstorm so I wanted a place that I would not be exposed to lightning. At about 8:00 I neared an island campsite and decided that I had better use it. I was reluctant to do so because Claire had explained to me that in the spring and early summer the caribou and moose used the islands for calving. If they are used or approached too closely the animals will be driven to the mainland where they are very vulnerable to predators. With a storm and darkness approaching I decided there was no other choice.
The storm clouds were coming so the tent went up first and my gear put inside. My supper was quickly prepared and eaten. I had just settled back with a bowl of pudding prepared using powdered milk and a mug of tea when the rain started and forced me into the tent. The wind really picked up and as I looked out the screen at the swaying trees I wished I had not read that book about the Boundary Waters Canoe Area's big wind storm on July 4,1999. Today I traveled 10 miles and did 1555 meters of portaging.