Saturday, May 12th – Everyone was up at 7:30 am with Jean cooking breakfast consisting of bacon, sausage, scrambled eggs, toast and lots of coffee. What a feast to start a day!
| | |
| --- | --- |
| | |
With overcast skies and a steady wind at our backs, we paddled towards the southerly marshlands in short order. Meandering through the serpentine waterway and over early growth lily pads, we passed through a broken beaver dam to try our luck at fishing in its pond. Almost every cast brought about a catch of brook trout. Marc caught a one-pound trout that was a definite 'keeper'.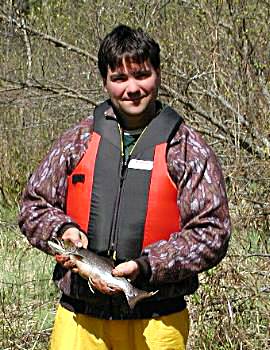 Jean and Denis suggested releasing the smaller ones, which didn't appear small to Marc and Norm, as this was only a 'taste' of what bigger fish we would encounter at another location. Continuing on up the stream, we began to battle overhanging branches that had to be cut away with an axe. After a half hour of cutting and creeping slowly along the upward stream, Jean and Denis decided to consult their map again. Being in this area only once before in the previous year, they came to the conclusion that this was not the intended stream. Regrouping at the beaver pond, Jean and Denis returned back up stream to do a second search while Marc and Norm entered the marshland to probe the other side of the pine grove. When Norm and Marc found the intended stream, they blew their whistle three times to signal Jean and Denis of their success and to wait for their arrival. We took our time fishing in some ideal pools while zigzagging deeper into the interior. Crossing over fallen trees and beaver dams and trying to avoid overhanging alders in the narrow stream, we finally arrived at the foot of the rapids. Casting out over the small, circular pond, the brook trout snapped at our bait without fail with nearly every cast, providing a good fight and entertainment for all of us. We were like excited kids in a candy store! We couldn't cast quick enough and the oohs and ahhs over the size of the trout were non- stop. Overall, we kept nineteen brook trout averaging about one pound each, except for one that Jean landed, coming in at least two pounds – a trophy to say the least! Denis' photos of our catch will definitely attest to our accomplishment and bring envy to many a fisherman! I couldn't help but think of my friend, Alex McNaught, who had his own 'secret' trout holes in New Brunswick. Alex would have enjoyed this trip!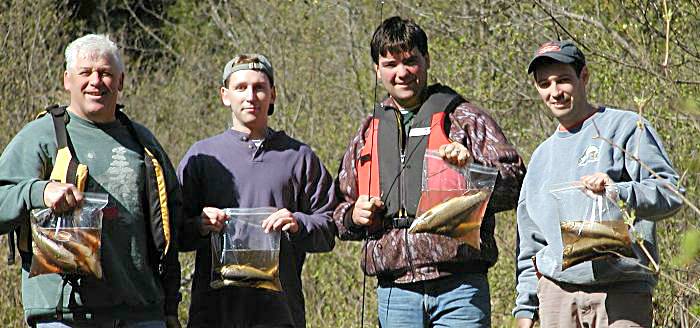 Entering the lake from the marshland, we were faced with white-capped waves and a cold wind. Occasionally, bigger waves splashed water over the bow and gunwales, but we managed to steer the canoes at a safe angle towards shore and to our campsite.
We cleaned the fish at a nearby campsite on a large, flat rock along the water's edge. Norm showed Jean a technique on how to cut and remove the fins without leaving any bones. We made sure that we washed away the blood and guts so that wildlife wouldn't be attracted to the area during the night.
Relaxing under our shelter over a cool beer and next to a warm campfire, we saluted and relived our day, not yet believing our good fortune. We decided to divide up the fish so that six were soaked in beaten eggs, covered in flour and fried in oil; another six were stuffed with lemon, lime and orange and wrapped in tin foil; and the remaining fish were spiced and steamed over the campfire. With a caesar salad as an entrée and red wine to toast in a celebration of our day's catch, we sat down to enjoy a truly "wilderness banquet"!
As we watched the sun descend over the hillside across the lake, we began to feel the effects of the day's wind and sun … Norm was the first to "crash" for the night, followed by the others in short order. As a precaution, especially with the scent of cooked fish still lingering throughout the campsite, a propane lantern was left on during the night, to ease the mind, to keep away any unwanted wildlife.