Top to Bottom


A solo canoe trip into Ontario's Woodland Caribou Provincial Park


July, 2004
By
Martin Kehoe

Part 3
Go to Part:
1 2 4

More Canoe Stories


Park Information


Part 4
Day Nine- Cruising around Royd on a rest day
The area around Royd had such a pull on me that I decided to stay one more day. Mt time is half gone so I checked my larder to make sure I was good for eight more days. I had used two liters of fuel and had two left so everything was in order. My dark chocolate Dove pieces will last if I limit myself to five a day. I hung the food pack and took off with a day of leisure in mind. The plan was to paddle the shoreline for a while and then climb to the top of the highest bluff I could find. My stove and food would be in the pack I carried so lunch could be anywhere. A hike in the woods would add some diversity to my travels. On the way back to camp I would catch another trout for my farewell dinner on Royd.
| | |
| --- | --- |
| click to enlarge | click to enlarge |
The plan worked out pretty well. The high bluff had a breathtaking view up the lake under bright blue skies. The hike turned up animal trails and spots the spruce grouse were using to pick grit for their digestive process. Also a moose antler piece that had been shed long ago. Even in a well planned day things turn up that have to be taken care of immediately such as the delicious blueberries I stumbled onto while walking. A new campsite to be plotted with the GPS, the best one I have seen on Royd. 376366 5655573 Then all that exercise called for a refreshing lake swim. The only glitch was that I could not catch a trout for dinner.
Day Ten- Royd to Dunston
The sun was only a half hour old when I started paddling east into its fiery reflection on the water. The mist that had risen from the water was waltzing across the surface. A soft pecking was coming from the trees on shore and I found it to be a Hairy Woodpecker and not the rarer Three- Toed Woodpecker I was looking for. The sun drenched hill side is alive with a lot of birds flitting about. Red Breasted Nuthatches, Pine Siskens, and a brown capped Boreal Chickadee made a cameo appearance. I linger for a while hoping for others but also because I am not ready to surrender the serenity of this morning for the 900 meter portage that waits around the corner.
Bruce, you can be glad we missed this 900 meter portage on our fly-in trip. Especially the first climb until later you realize it was the appetizer for the main entree. Not to worry though, it flattens out later in the spruce bog. Bruce is one of my canoe partners who has his opinions about portages. It must not be that hard on him. He has plenty of wind to express those opinions as he climbs.
Really the portage is not that bad if done in the proper manner. I use a leapfrog strategy on the long portages. The first carry is set down after five minutes and you rest while walking back for the next load. The next load is carried for ten minutes. You set it down and rest for five minutes while you walk back to pick up the first load that you leapfrogged past. Using this method I completed the 900 meter portage in one hour with some time spent throwing trees off the trail. When I talked to Claire at the park headquarters about my route she mentioned that this portage would be freshly cleared by the time I got here. Windstorms must have called them elsewhere because there were some big trees on the trail.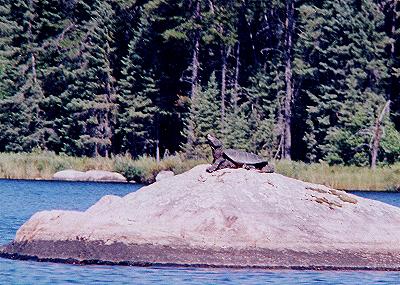 I come out on a long narrow lake and find a campspot a little ways down the shoreline on the east side. 374809 5661708 There is a big sloping slab of rock with tent pads at the top. The last camper left a supply of firewood but it has been so long that it is mostly rotted away. The next lake also has a nice potential site. 374272 5662950 My only company had been a Bald Eagle until I heard a strange elk like bugle ahead. I was not sure what it was but had my camera ready as I drifted ahead. There was a black shadow and I lifted my binoculars to check it out as I had done do many fruitless times. This time it was a Black Bear and when it sensed that it had been spotted it went running and crashed up a Jack Pine tree near shore. I paddled over and snapped a few pictures of it. Its big butt was sticking out in the open but the face was being hidden behind a branch. The bear was definitely under stress so I quickly departed and continued looking for the source of the bugle with no success.
This has been another great travel way in WCPP. There is one scenic vista after another as I paddle along aided by a breeze from behind. When I got to the 60 meter portage to the creek I was happy to see all the water flowing.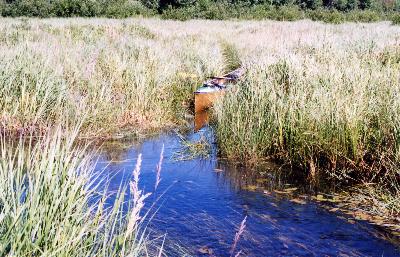 The creek was really deep and I came to a big beaver dam 300 meters before my turn up small channel to Mud Lake and then the 750 meter portage to Dunston. This is one of the spots where the map GPS is a real hassle saver. I had to head into a channel that was nothing more than a split in the grass that a canoe has to squeeze through. Without the GPS showing my position on this little side channel I would not know it from other dead end slits in the grass. The 750 meter portage is probably the most pleasant portage in WCPP. It goes over a crown of land separating the Gammon River system from the Bloodvein. Always allow some time to linger on this part of your trip.
I spent some time selecting a campspot and ended up staying at a spot I found in 2000. I hardly recognized the spot. Then I had to move dead wood in order to put up my tent. It has now become a full blown campsite.367351 5672281 There is also a site with poor tent pads .75 miles to the south. I contemplate trying a route through Pickerel and Beaver Lakes tomorrow because I had so much fun getting off the canoe routes on Royd. I decide against it because I have left a route plan with a friend and do not want to get hurt off the plan I have given him. I will think more about getting that satellite phone before my next solo trip. It may be cheating the wilderness but I could dial up a fly in service and hire them to retrieve my broken body. The GPS would provide my exact location for them in case I was lying in a tangle of trees somewhere.
Day Eleven-Mega Day-Dunston to Musclow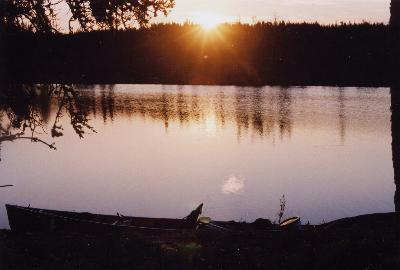 I pushed off as the sun cleared the trees on the eastern horizon. There is more water in Simeon Creek than when I passed through in May of 2000. It is still a bump and grind but I manage to get out and coax the canoe over the rocks. I notice that a blue green canoe has preceded me. No doubt a tad lighter by all the color I see on the rocks below the surface. When I had finished the last portage and got out on Simeon Lake there were motorboats carrying fishermen moving around. As I started working my way down the Bloodvein and on the way to Barclay Bay I started devising a wild scheme. It was a long way away but with the strong tailwind I had it might be possible to make camp near Musclow and then cruise up and down it in the evening calm. I stopped for lunch across from where a wide channel leads to Sabourin. I did not push hard but took advantage of a great tailwind. The travel went so well that it was only four o'clock when I reached Musclow Lake. The waves were a size that my Wenonah Prism handles very well so I headed to the north end of Musclow and fixed my supper on a rock out of the wind. With the wind at my back my GPS told me that I was moving at 3.8 MPH across the lake.
The wind did not seem to be calming down as I headed back south on the lake. I was surprised to see that my speed into the wind and waves was 2.5 to 3.2 MPH. There were some islands on the east side that I used as windbreaks to get back down to the river exiting the lake. As I looked for a place to camp my main concern was to have my tent over some deep soft sphagnum moss. A big rock on the on the SW corner of the river exit worked out perfect for a nice camp and soft bed. 365974 5694093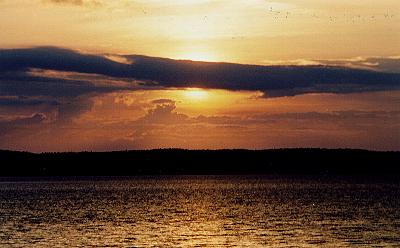 Usually I was in bed by sunset but tonight I enjoyed my dessert while watching a great one. The site has a great view of the lake with a downside being that a strong west wind could blow you off the rock. The route today covered 35 miles which I had never done before and may never do again. The tail wind made it all possible to achieve the second goal of getting to the top of Woodland Caribou and still be able to retreat to a safe harbor.
Day Twelve-Musclow to My
My first hours today have been spent backtracking to Barclay Bay and then heading further down the Bloodvein River. The scenery up here is not as fascinating to me as the country to the south. There are some rock outcrops but with more soil up here the forests usually comes right down to the shore. With better soils there are Aspen trees and some Balm of Gilead that I have heard referred to as Bam by the loggers in Minnesota. During lunch I decided to head up a stream to My Lake. If I had taken the route through Pickerel and Beaver I would have come out on the stream. It is marked shallow on my park map so I do not know what I will find.
I entered the channel and was happy to see a wide and fairly straight avenue. In a few minutes I had covered about a third of the mile that the GPS showed as the distance to My Lake from the Bloodvein. I had to cross a beaver dam and then another which is good because they give you deeper water. It was when I carried my gear over an ancient berm made by generations of rotted dams that things turned south. On the bright side there was a Lesser Yellowlegs and several Solitary Sandpipers enjoying the mudflat that was left when the dam rotted through and drained. Undaunted I pulled my canoe along the small trough of water that remained. A few small dams did not help the situation at all.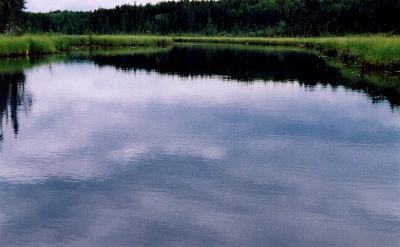 The channel was so narrow and crooked that my solo would not even squeeze through. I fought my way up the creek and over a few more small dams. I rechecked my GPS map to make sure I was pulling up the correct channel and trudged ahead. A large dam finally provided the high water needed to get out onto My Lake. I know that being off the track heightened the enjoyment of being on this lake. Even with that it is a great little lake. Actually not all that little either. I decided to cruise all the way down the lake and pick out the best campsite before the afternoon crowds poured in. Oh, that's right, I am in Woodland Caribou. My Lake is a mile long with a lot of variety on its shores. At the SE end I had a snack and headed overland to look for a portage route to Beaver Lake 400 meters to the east. The contours on my GPS map gave me hints as to where to check for a portage. I did not find any blazes on the swampy west end but half way through there was an old blaze on a tree but no visible path. On the most western shore of Beaver I found blaze marks on trees in the SW corner. Using my GPS's GOTO feature I selected the waypoint for the blaze half way through. Watching the GPS screen I walked through open forest to that tree and then did another GOTO to the waypoint I had marked before leaving my canoe. Following these coordinates it is an easy carry through the woods with some bog on the west end. 363795 5679830, 363554 5679855, 363452 5679903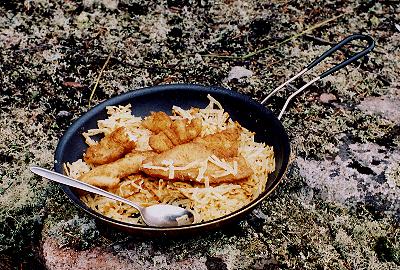 A fish fry seemed like to would be a great end to a fine day so I walked down to the shore at my camp and threw out my pink Dardevle. After three or four cast past a weed bed I got a light strike and was surprised to see a small Walleye on the line. I landed it and lost 2 more Walleye before some big Northern moved in and hit the lure. They shook off too and I realized that I had my drag set so light that when I went to set the hook I was not doing anything. I paddled to a far shoreline to clean my fish and tried for another with no luck. After my fish fry I went to bed with hopes that the Northern Lights that were hidden behind some thin clouds last night would break out tonight and maybe be joined with a wolf serenade. There were a lot of tracks on those beaver dams. My tent was on an elevated spot with a good view of the northern skies. The camp was rather makeshift on a lot of sloping rock but I found it picturesque. 362991 5680271
Go to Part:
1 2 4

More Canoe Stories


Park Information


Part 4
Copyright 2004 by Martin Kehoe- http://www.canoestories.com/kehoe/top_to_bottom1c.htm